HEBE
Ship No 482
In Greek mythology, Hebe is the goddess of youth (Roman equivalent: Juventas). She is the daughter of Zeus and Hera.
RFA Hebe
was an order from British India Steam Navigation Co Ltd. She was to be part of a two ship order, and they were amongst the largest ships built in the Leith Shipyards.
At 4823 Grt (5218 dwt) and with a length between perpendiculars of 350 feet and a beam of 55 feet, along with a design draught of 31 feet.
Her keel was laid on 18th of April 1961 and she was launched on 7th of March 1962.
She was chartered on a long term bare boat charter by the Ministry of Defence (MOD)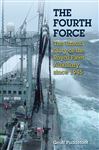 She was to suffer a bad fire dockside in Gibraltar in 1978 when a crew member lost his life, due to the damage sustained she was handed back to her owners, where she was to continue under a few other names before being broken up in 1987.
You will be able to read a lot more about this fine vessel on the
new website
soon.