(Photo courtesy of RNZN Museum)
Ship No 315
Second in line of the three ship order for H.M.N.Z.N.
She was 157 feet and 6 inches length overall with a beam of 27 feet and 6 inches and a draught of 15 feet and 6 inches.
She was launched from the yard on 7th July 1941.
Ship details:
Type: Bird Class Trawlers
Pennant No.: T102
Commissioned: 1941
Displacement (full load): 937 tonnes
Dimensions: 51.2m length, 48m height, 9.1m beam, 4.7m draught
Engines: 1-shaft reciprocating engine, oil fired, max speed 13 knots
Armament: 1 x 102mm [4"] gun
Minesweeping equipment
ASDIC [anti-submarine equipment]
1 x twin Hotchkiss light MG mounting
1 x 20mm gun (from 1942), a further 2 x 20mm fitted unofficially in 1943
Complement: 33-35 officers and ratings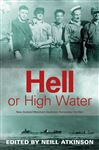 This class was based on the design of an experimental Royal Navy minesweeping trawler were the first new ships to enter service with the Royal New Zealand Navy, their principal peace time function was training, and in wartime, minesweeping and escort duties. After working up in Northern England she went to New Zealand In December 1942, the four ships of the 25th Minesweeping Flotilla, comprising the three 'Bird class' corvettes HMNZS Kiwi, Tui, and Moa, with HMNZS Matai as senior ship, had deployed to the Solomons.

H.M.N.Z.S. Kiwi (T102) was to take part in many adventures during the long and dangerous days of World War II including the sinking of the Japanese Submarine I-1 while working in tandem with her sister ship H.M.N.Z.S. Moa.



A remarkable feat for these gallant little ships to under take, and her full story will be told on the new website.


HMNZS Kiwi post-war
During this action she rammed the submarine, which was over twice her size, damaging her bow and was sent back to Devonport for repairs. After repair, she returned to the Solomon's area, remaining there till almost the end of the Second World War, returning to Auckland in August 1945 to help in the clearance of the Auckland minefields, going into reserve shortly afterwards. She re-commissioned in 1948- 1949, 1951-1952, and 1954-1956 for use as a training ship, before finally paying off in 1956. She was sold for scrap in 1964 and broken up shortly afterwards.
(My thanks to RNZN Museum)