MV POINEER as Brenda Corlett seen here in W.Africa in a photograph by Ian Fraser


Pleased to be able to tell you that we now have some fine photographs of the MV PIONEER ship No 515 which is now still working away off the coast of West Africa.




Thanks to Ian Fraser who while delivering another ship down that way was invited onto the PIONEER now called the Brenda Corlett and he has sent us in many exclusive photographs of her.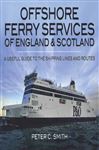 The ship photo library continues to grow thanks to a few more contributors and we would like to invite all to send in there photographs of ships of all kinds for show on the ship photo's page of the website.




Good to see that some things on the ex MV PIONEER still remain and this shows one of her old destination boards still with her in the waters of W.Africa, seen in this photograph taken by Ian Fraser
and sent into the Leithshipyards website.