H.M.S.LOCH INSH
Ship No 346
Twin screw "Loch Class" Frigate.
Second of the Loch Class to be built at the Leith yard, of Henry Robb Ltd.
LOCH-Class Twin Screw Frigate ordered from Henry Robb, Leith on 25th January 1943 and laid down as Ship No 346 in November 1943. The ship was launched on 10th May 1944 as the 1st RN ship to carry the name. Her build was completed on 20th October 1944. The ship was 'adopted' by the civil community of Northampton after entering service.
HMS LOCH INCH
while on the Russian Convoy duty (Convoy RA66)
sank U307 using SHARK projectiles and SQUID in the attacks.
She rescued 14 survivors from the destroyed U-Boat.
She served world wide with the Royal Navy for 18 years after the end of World War 2
HMS LOCH INSH
was placed on the Disposal List and sold to the Royal Malayan Navy in 1963. After a very extensive refit at Portsmouth which included change's to the aft superstructure and the provision of Helicopter landing facilities, the ship was renamed HANG TUAH. She sailed for Malaya on 12th November 1964 and served as the Flagship of the Royal Malaysian Navy until 1971 when she was used as a training ship until withdrawn from service 6 years later.
H.M.S. Loch Inch
had a working life of more than 30 years.
H.M.S. LOCH INSH
"Loch Class" Frigates.
The ships of the Loch class of A/S frigates represent the final product of wartime design of frigates.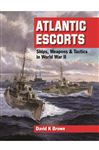 They were designed to be mass produced in sections at dispersed sites and transported to an assembly point at a slipway.

Welding and riveting were used to speed production of the unit construction techniques and it took fewer men to produce a ship of this class.

With a single 4 in gun on the foc'sle for surface action, the main weapons were beyond doubt the twin squid anti-submarine mortars, along with the high mounted rapid firing twin 20mm guns for anti-personnel work.

To speed construction curved structures were eliminated in the design making the lofting a little bit more simple and a noticeable result of this was that the deck sheer was reduced to three straight lines, from stern to bow.